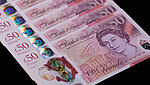 KURZ Completes the New English Polymer Banknote Series
Fuerth/Germany, 25/03/2021: Today, the Bank of England revealed images of the new £50, the fourth note in England's polymer series, following on from the £5, £10 and £20 notes issued in 2016, 2017 and 2020. KURZ is proud to be part of the full series with its contribution of a KINEGRAM COLORS® registered stripe applied over a transparent window in the polymer substrate. This unique security feature makes the banknotes extremely secure against counterfeiting.
The Bank of England chose polymer substrate because of its significantly longer life compared to paper notes, and because polymer notes stay in better condition during day-to-day use. Applied onto the smooth polymer surface, the colored foil stripe is extremely brilliant, with striking visual security effects, and thus makes a major contribution to the success of the series.
On the new £50 note the stripe comes in green, gold and silver metallic colors on the front, and red and silver on the back, visible through the clear windows.
On the front, at the top of the stripe, we see the royal crown expressed in a 3D relief effect, whereby the crown seems to be protruding from the surface, while in fact it is an optical effect, being completely flat to the touch. Behind the crown we see individual dynamic colors.
At the bottom of the stripe the words 'Fifty' and 'Pounds' flip between one word and the other as the note is tilted.
The theme of the new note is Alan Turing, the pioneer of modern computing. The middle of the foil stripe contains an image of a microchip, and of a sunflower, reflecting Turing's work on computing, and on the mathematics involved in organic growth. KINEGRAM COLORS® technology produces exact positional register between partial metalization and the green and gold coloration. The optical effects in this section of the stripe are rotational movements combined with a lens effect and further image flips.
A presentation about the new banknotes with KINEGRAM COLORS® can be seen here on the Bank of England's website.