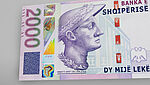 New Albanian 2,000 Lekë Banknote with KINEGRAM® Registered Stripe
On 17th January 2022, the Bank of Albania issued the last two denominations (500 Lekë and 2000 Lekë) of the new banknote series. KURZ is proud to be part of this achievement, once again, by contributing KINEGRAM® registered stripe to the renewed denomination 2,000 Lekë.
The previous series of banknotes (except for the 2,000 Lekë), was put into circulation in the late 1990's. Since that time, protective technologies have constantly evolved, and the new banknotes include up-todate security features, which offer strong protection against counterfeiting while maintaining public confidence and trust in the currency. The introduction of the new series of banknotes, containing denominations (200, 500, 1,000, 2,000, 5,000, and 10,000 Lekë), started in 2019, when the new 5,000 Lekë and 200 Lekë were issued.
Like the 5,000 Lekë and 10,000 Lekë, the 2,000 Lekë has a sophisticated foil stripe displaying multiple optical effects created with the unique non-holographic KINEGRAM® technology. The foil stripe is applied in register to the print and partially metallized in multiple patch-like shapes, each with their own distinctive effects. The main motif of the 2,000 Lekë is a portrait of King Gent of Illyria. He is known as a statesman, a warrior and a scientist in medicine. That is why the reverse of the banknote features the gentian (Gentiana lutea) - a medicinal herb whose healing properties were discovered by King Gent and named after him.
The KINEGRAM® security feature for the 2,000 Lekë was designed in close liaison with the Bank of Albania, ensuring a visually attractive integration and an overall well-secured banknote. The bottom of the stripe shows a stunningly three-dimensional herbal flower, surrounded by a brightly shining colorful outline effect, which appears in rainbow colors when tilting the banknote to and fro. The flower seems to be tactile but is in fact completely flat to the touch.
Additionally, fine line movements starting on the lower half of the security foil stripe are combined with a clearly visible image flip between the words 'DY MIJË' and the denomination number '2000', for instinctive recognition and authentication by the general public. The most striking effect of the diffractive foil stripe is a true color portrait of King Gent, surrounded by an outline that displays a strong pumping movement. It corresponds to the printed portrait on this banknote denomination, underlining the integrated, harmonized design.
At the top of the diffractive KINEGRAM® stripe, the Bank of Albania's headquarter building is showcased and displays both an achromatic and a colorful diffractive watermark effect, i.e., the contrast of the colors and grayscale tones reverses when the banknote is rotated by 180°. This security effect can be seen also on the 5,000 and 10,000 Lekë.
While banknote counterfeiting has been low during recent years, the Bank of Albania always strives to keep ahead of the criminals and be at the cutting edge of banknote security, making the banknote features easier to be verified and harder to counterfeit. Additional information about the new series is available on the Bank's website at the following link: https://www.bankofalbania.org/Currency/Security_Features/2000_Leke/