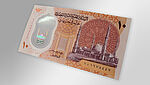 10 Egyptian Pounds Banknote with KINEGRAM COLORS® Patch Issued by the Central Bank of Egypt (CBE)
In July 2022, the Central Bank of Egypt (CBE) issued a new 10 Pounds banknote with a modern and innovative design. For the first time, the new banknote is based on a polymer substrate, while the old paper version of the same denomination is still in circulation.
This banknote is secured with a KINEGRAM COLORS® Patch from KURZ applied over a clear window in the polymer substrate. On the note's front, the patch is in silver color whereas the reverse, which can be seen through the window, is gold-colored. The patch depicts the Al-Fattah Al-Aleem Mosque and exhibits distinct optical security effects such as a Surface Relief 3D effect and an eye-catching FLUX movement effect.
Thanks to the well-proven KINEGRAM COLORS® technology, which is also used to protect the entire new English pound sterling banknote series, security foils for banknotes can be enhanced with multiple colors that are positioned in perfect register to the partial metallization. This unique achievement in the banknote industry, first introduced by KURZ in 2016, makes the feature extremely safe against counterfeiting.
KURZ's KINEGRAM® technology is superior not only in terms of its anti-counterfeiting properties, but also the visual attractiveness of the resulting security features, offering an unrivaled versatility and a huge number of effect and color options. KINEGRAM® stripes and patches from KURZ are highly sophisticated and advanced, proven in circulation on billions of banknotes around the globe.
Launching the new banknote in Egypt is part of the CBE's framework of implementing a clean monetary policy, raising the quality of banknotes and also reducing the cost of printing. This is also in line with the sustainable development programs adopted by the state through Egypt's 'Vision 2030' and KURZ is honored to contribute to this. Not only does the KINEGRAM® make the Egyptian banknotes more secure – it also responds well to sustainability demands by being applicable hassle-free at high speeds, creating extremely low amounts of waste and offering extremely high reliability.
More information about the new Egyptian 10 Pounds banknote is available upon request.