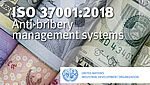 Anti-Bribery Management Certification for KURZ
KURZ's Business Area Banknotes was recently certified according to DIN ISO 37001:2018 standard for deploying an anti-bribery management system.
Following the establishment of a Code of Conduct that sets clear standards in regard to integrity and proper business conduct, KURZ's Business Area Banknotes underwent a strict review by KPMG at the end of 2022, which examined and confirmed the company's management system to be fully compliant with the requirements of the sought-after DIN ISO 37001:2018 standard.
KURZ believes that ethical, social, and ecological action and strict compliance with laws and regulations are prerequisites for the successful continued existence and healthy growth of our company. That is why we always act as a responsible and fair business partner and employer, seeking out transparency and trust.
Bribery puts trust and credibility at a stake. The international DIN ISO 37001:2018 standard makes it possible to prevent, detect and combat bribery by adopting an anti-corruption policy, appointing a person to oversee anti-corruption compliance, training, risk assessments and due diligence on projects and business partners, and implementing financial and commercial controls as well the establishment of reporting and investigation procedures.
The certification obtained by KURZ is valid for the Business Area Security in Fürth and Sulzbach Rosenberg (Germany) as well as our subsidiary OVD Kinegram AG in Zug (Switzerland) for the Business Area Banknotes and all activities performed by the mentioned organisations and subsidiary in the Business Area Banknotes.
Image: ISO®