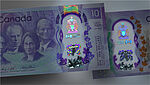 Bank of Canada's New Commemorative Note
Fuerth/Germany, 04/10/2017: The Bank of Canada has unveiled on 7th April a commemorative $10 Banknote, on the occasion of the 150th anniversary of Confederation. A total of 40 million pieces have been produced. The notes will be available at financial institutions starting on 1 June 2017.
As a prominent security feature, the note is equipped with a KINEGRAM ZERO.ZERO® foil stripe, which includes a striking 'Surface Relief' 3D effect.
The front of the note features portraits of Canada's first prime minister, Sir John A. Macdonald, and fellow Father of Confederation Sir George-Étienne Cartier, Canada's first female member of Parliament, Agnes MacPhail, and James Gladstone, Canada's first indigenous senator.
The reverse side design includes a variety of Canadian vistas, based on public feedback on what Canadians wanted to see on the note.