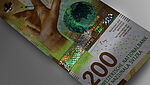 KURZ Foil on New 200 Swiss Franc
Fuerth/Germany, 21/08/2018: The new 200 Franc banknotes, focusing on Switzerland's scientific expertise, and using matter as its key motif, will be launched into circulation on 22 August 2018. Like the other denominations of the new (ninth) series, it carries a bi-color KINEGRAM VOLUME® from KURZ, which is combined with a partially metallized KINEGRAM® in one single foil element.
The highly sophisticated foil stripe incorporates the denomination numbers in two colors, appearing on four lines which move from left to right in opposite directions as the note is being tilted. The partially metallized KINEGRAM® shows a vivid image of a map containing the geological ages of the Swiss landscapes, as well as a timeline with some of the most important stages in the formation of the universe.