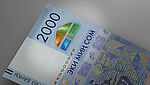 KURZ Foil on New Kyrgyz Banknote
Fuerth/Germany, 08/01/2018: In December 2017, the National Bank of the Kyrgyz Republic issued a 2,000 Som commemorative banknote.
The foil security feature on this new note is a KINEGRAM COLORS® patch, developed by KURZ, in the form of a Kyrgyz yurt. It is the world's first paper banknote to feature this technology. The walls, entrance, and roof of the yurt are realized in three distinct metal colours – gold, bright green, and turquoise – and incorporate fine filigree details. When the banknote is tilted, various optical effects can be observed in the foil: The colours dynamically change in shade. Fine lines within the yurt move to right and left. A traditional Kyrgyz symbol and the number 25 flip from one to the other in the walls of the Yurt.