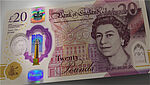 New Award-winning Banknotes with KINEGRAM®!
Fuerth/Germany, 20/03/2020: The Best New Banknote award went to the Bank of England for its beautiful new £20 note which incorporates several innovative features, of which the principal one is a registered KINEGRAM COLORS® foil stripe from KURZ.
The Best New Commemorative Banknote award was presented to the National Bank of Poland for its 19 Zloty commemorative note, which marks the 100th anniversary of the establishment of the Polish Security Printing Works. The banknote went into circulation in October 2019. It is also among the first banknotes with a registered KINEGRAM® High Definition Metallization (HDM) foil stripe from KURZ applied over a die-cut window.