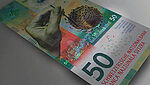 Switzerland's 50 Franc is Banknote of the Year
Fuerth/Germany, 26/04/2017: The International Bank Note Society (IBNS) has announced the winner of their latest 'Banknote of the Year' competition. As winner of the 2016 award, the Swiss National Bank was selected for the new Swiss 50 Franc Banknote, which was issued into circulation 12 months ago.
The IBNS says: "With almost 120 new banknotes released worldwide during 2016, over half were of sufficiently new design to be eligible for nomination." With this tough competition, the Swiss 50 Franc note was a narrow winner.
The banknote is the first of the new, 9th Swiss series. It was printed by Orell Füssli Security Printing Ltd., and its design features wind and national experiences. Together with the remaining notes of the new series, it incorporates some of the latest security standards, including a highly sophisticated bi-colored KINEGRAM VOLUME® foil stripe. It is printed on Durasafe® substrate.
The IBNS is a private non-profit organization of banknote enthusiasts and collectors, including several industry experts. It strives to promote, stimulate, and advance the study and knowledge of worldwide banknotes and paper currencies and has more than 2,000 members in over 90 countries.