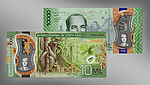 The new Costa Rica ₡ 10,000 Banknote with KINEGRAM REVIEW® from KURZ
The Banco Central de Costa Rica (BCCR) issued its new 10,000 colones banknote on 15th October 2021. LEONHARD KURZ is proud to be part of the new banknote project by contributing a KINEGRAM REVIEW® registered stripe applied over a transparent see-through window in the polymer substrate, as seen already on the 20,000 colones (issued in November 2020). This foil-based feature with the unique non-holographic KINEGRAM REVIEW® technology makes the new banknote extremely secure against counterfeiting.
KINEGRAM REVIEW®, which is also used for the high denominations of Euro banknotes, is the leading technology for foil-over-window solutions and offers two visually different designs on the front and back of the foil. The KINEGRAM REVIEW® stripe applied to the new Euro Series shows a registered front side image and a continuous design on the reverse side. Thanks to the efforts of the highly motivated R&D team at KURZ, the new Costa Rican banknote uses an upgraded version of KINEGRAM REVIEW® technology with a registered image both on the front of the foil, as well as the reverse side.
The design of the foil on the new 10,000 colones Costa Rican banknote is one of a kind and beautifully reflects the banknote's print motif of the former president José Figueres and the abolition of the army. On the front side, the foil shows the National Emblem of Costa Rica stylized in detail. On the reverse of the foil the colorful sloth is featured, which is the representative animal for the Rainforest ecosystem that Costa Rica is famous for. Both motifs on the front and reverse display colorful movements on a matte background when the banknote is tilted about the vertical axis. (e.g., moving stars from left to right in the National Emblem; movement of the sloth's body and visibility of a tree trunk and orchids). On the front, an image flip is visible on the bottom of the registered stripe: The denomination '10MIL' switches to the letters 'BCCR'. Thanks to the KINEGRAM® technology platform, the foil stripe is additionally enhanced with a 3D relief effect in the denomination number '10' on the front, which seems to be protruding from the surface while in fact it is an optical effect - being completely flat to the touch. The smooth surface of the polymer substrate significantly accentuates the optical effects of the foil feature.
A presentation about the new banknotes using KINEGRAM REVIEW® in the Spanish language, but with a lot of self-explanatory pictures, can be seen here:
Seguridades de los nuevos billetes de polímero de altas denominaciones (video)
Banco Central pondrá en circulación nuevos billetes de ₡1,000 y ₡10,000 en polímero (PDF)